Ständige Nachverfolgung mit Asset Tracking

Asset Tracking, die Überwachung und Nachverfolgung von Gegenständen, ermöglicht es, Prozesse zu digitalisieren. Von einzelnen Prozessschritten bis hin zu vollständigen Lieferketten reichen hier die Einsatzmöglichkeiten. Die Technologie basiert auf IOT (Internet of Things) und der Vernetzung von Gegenständen mittels Sendern und IOT-Plattform.
1. Prüfung beim Wareneingang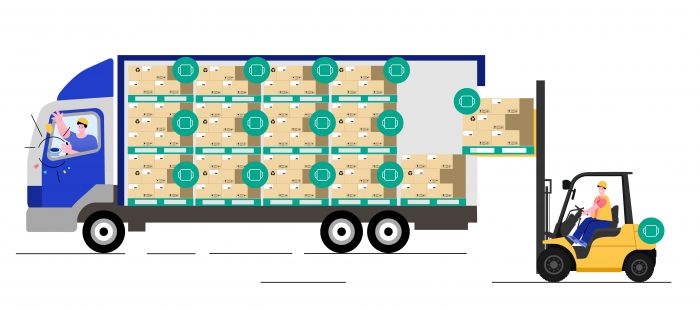 Bereits beim Wareneingang lässt sich so eine blickdicht verschweißen Palette mit Folie eindeutig identifizieren. Was klassische Aufkleber mit Barcodes oder QR-Codes auch geleistet haben, läuft nun digital. Die digitalen Transponder müssen nicht mehr an exponierten Stellen befestigt werden, damit sie von außen gelesen werden können, um sie zu identifizieren. Zudem konnte man die klassischen Papier-Etikettierungen nicht wiederverwenden. Auch Verschmutzungen sorgten hier oft für Probleme. Digitale Lösungen haben nicht mit solchen Hindernissen zu kämpfen. Hier stellt sich eher die Frage nach der am besten gewählten Empfangstechnologie. Je nach Einsatzgebiet und Wunsch gibt es hier unterschiedliche Technologien, Reichweiten (Indoor oder Outdoor), Stromversorgungen (ohne/mit Batterie bzw. Stromanschluss) und Größen.
2. Lokalisierung im Lager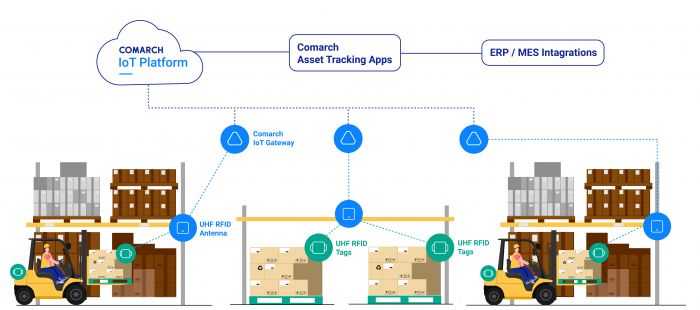 Die Sender können sowohl an ein Produkt, einen Ladungsträger oder an ein Transportmittel angebracht werden, um diese eindeutig zu identifizieren, egal ob der Ladungsträger eine Palette oder Gasflasche ist. Der zweite Vorteil ist nun die genaue Lokalisierung: Wo ist die Ware und wer transportiert sie gerade? Mit den Antworten auf solche Fragen sind unterschiedliche Szenarien im Logistikprozess abbildbar.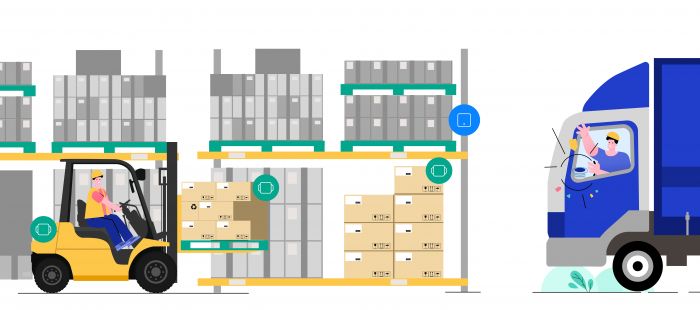 Die von den Sendern ausgegebenen Informationen müssen weitertransportiert werden. Hier fungiert die Comarch IOT Platform als solides Grundgerüst für die stetige Bereitschaft der Daten. Einfache Analysen und Regeln zur Verwaltung können so aufgesetzt werden. Mit dem IOT (Internet of Things) vernetzte Hubs oder IOT-Gateways nehmen Informationen von den Sendern entgegen und transportieren sie an die IOT-Plattform, wo analysiert wird, was mit den Daten geschehen soll: Zur Analyse ins BI-Portal oder die Warenbewegungen ans ERP-System? Die so generierten Daten könne nämlich alle an das ERP-System übergeben werden, um dort Prozesse anzustoßen oder abzuschließen, zum Beispiel Umbuchungen. So ist immer völlige Transparenz im ERP-System gewährleistet, ohne dass jemand manuell einen Vorgang gebucht oder gescannt hat, alle Prozesse laufen automatisch, schnell und zeitnah bzw. in Echtzeit ab.
3. Tracking des Transportweges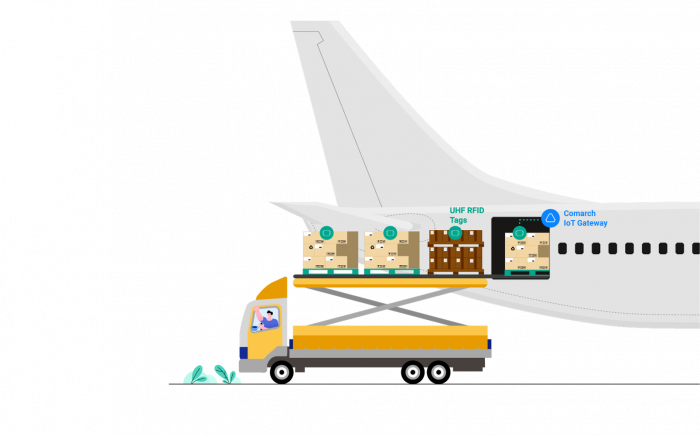 So lassen sich nicht nur Umbuchung im Hintergrund automatisiert und in Echtzeit ausführen ohne weitere menschliche Interaktion. Vielmehr kann der vollständige Transportweg getrackt werden, sei es im LKW, im Flugzeug auf dem Containerschiff oder im Container selbst.   
Die GPS-Daten stehen dann über Satellit zur Verfügung, um den ganzen Transport nachzuvollziehen.
Weitere Informationen
Mehr über Asset Tracking erfahren Sie in den aktuellen Whitepapern:
"Zur smarten Fabrik dank Asset Tracking":
https://www.comarch.de/service-und-support/whitepaper-und-webcasts/whitepaper-zur-smarten-fabrik-dank-asset-tracking/ 
"Optimierung von Produktions- und Logistikprozessen mit Asset Tracking":
https://www.comarch.de/service-und-support/whitepaper-und-webcasts/whitepaper-asset-tracking/
Zudem lassen sich auch die Zustände eines Produktes wie Temperatur, Gewicht oder Füllstand mit Smart-Metering-Lösungen nachvollziehen. Mehr über Smart Metering erfahren Sie im aktuellen Whitepaper von Comarch: 
https://www.comarch.de/service-und-support/whitepaper-und-webcasts/whitepaper-smart-metering-for-industry/