Grenzenlose Digitalisierung – Sächsischer Staatsminister besucht Comarch Innovation Space in Krakau

Dresden,  11.10.2021 – Eine Delegation des sächsischen Staatsministers Thomas Schmidt hat den "Innovation Space" des international agierenden Unternehmens Comarch in Krakau besucht. Dort wurden zahlreiche auf Künstlicher Intelligenz basierende Technologien zur Steigerung der Kundenbindung, Verbesserung der Datenleistung und Verwaltung komplexer IT-Infrastrukturen demonstriert, die in Bereichen wie e-Health, e-Mobility oder Internet of Things (IOT) Anwendung finden. Mit der Comarch AG wurde für den November ein Workshop in Chemnitz vereinbart. Teilnehmer sind die Fraunhofer-Institute für Elektronische Nanosysteme ENAS sowie für Werkzeugmaschinen und Umformtechnik IWU sowie die Professur für Strukturleichtbau der Technischen Universität Chemnitz. Es sind Kooperationen auf den Gebieten Internet of Things und Künstliche Intelligenz geplant.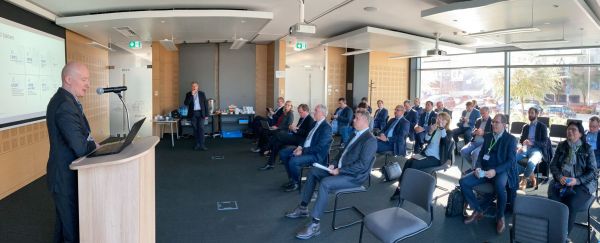 Die Technologien des IT-Herstellers Comarch werden weltweit eingesetzt. In Krakau sind Hauptstandort und Entwicklungszentrum angesiedelt. Auf dem zugehörigen Campus gibt es auch eine Fabrik für IOT-Hardware und ein firmeneigenes medizinisches Zentrum, an dem e-Health-Lösungen gemeinsam mit Ärzten entwickelt werden. Viele der IT-Produkte werden auch in Ländern wie Deutschland betreut – zum Beispiel am Standort in Dresden, dem Hauptsitz der deutschen Comarch AG.


Enge Verbindung mit Dresden
Bei Comarch fließen die Investitionen aus dem Nachbarland Polen in Zukunftstechnologie wie Soft- und Hardware. Seit 1999 ist Comarch im deutschsprachigen Raum aktiv und hat seine Aktivitäten in den letzten Jahren stetig gesteigert. Deutsche Unternehmen wie Meissen Porzellan, MediaMarktSaturn Group, Metro, REWE oder KiK vertrauen auf Comarchs Lösungen für Digitalisierung. 


Entwicklung vor Ort und weltweit: Von IOT über Health bis Kundenbindung
Auch in Deutschland werden die IT-Produkte vor Ort entwickelt, zum Beispiel ERP oder E-Invoicing in Dresden. "Gerade wenn es um landesspezifische Anforderungen geht, macht diese Entwicklungsstrategie Sinn. So können sich Kunden darauf verlassen, dass die Lösungen alle rechtlichen Anforderungen erfüllen. Andererseits profitieren unsere Kunden aber auch vom engen internationalen Austausch. Technologien wie das Internet of Things werden in Zusammenarbeit mit dem Campus am Hauptsitz in Krakau entwickelt. Dort entstehen auch alle Sensoren und Hardware in eigener Produktion – 100% EU-konform und made in EU", sagt Comarch-Vorstand Dariusz Biernacki aus Dresden.