Comarch wird offizieller Nachwuchssponsor des Schweizer Eishockeymeisters EVZ

Zug, 23.08.2022 – Der Software-Hersteller Comarch wird den EVZ (Eissportverein Zug) als offizieller Sponsor für alle Nachwuchsmannschaften unterstützen. In der Schweiz hat sich Comarch mit Projekten für bekannte Marken wie Victorinox oder Ditzler im Mittelstand einen Namen gemacht. Auch bei Konzernen, Banken oder Telekommunikationsunternehmen kommt das Portfolio des Software-Herstellers zum Einsatz. Als offizieller Sponsor fördert Comarch nun auch junge Eishockeyathleten auf ihrem Weg zur Profikarriere. Der EVZ ist Schweizer Meister im Eishockey.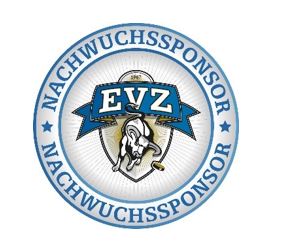 Der EVZ präsentiert einen neuen Sponsor: "Mit dem internationalen Software-Hersteller Comarch hat der EVZ einen Konzern aus der Region als starken Partner im Rücken. Wir freuen uns über das soziale Engagement des Unternehmens, das sowohl in der Schweiz als auch international breit aufgestellt ist", sagt Patrick Lengwiler, Geschäftsführer des EVZ. In Zug unterhält Comarch einen Standort; zudem lebt, wohnt und arbeitet der Firmengründer und CEO des global aktiven Konzerns, Prof. Janusz Filipiak, in Zug. Mit dem Sponsoring will man der Region etwas zurückgeben und in die Zukunft investieren, so Michal Pruski. Als Head of DACH steuert er das deutschsprachige Geschäft von Comarch – ebenfalls aus dem Büro in Zug heraus. "Nachwuchsförderung ist eine gute Investition in die Zukunft. Als Software-Hersteller wissen wir, wie wichtig Entwicklung und Innovation sind – egal ob auf dem Spielfeld oder in High-Tech-Entwicklungsstandorten", erklärt Michal Pruski das gesellschaftliche Engagement.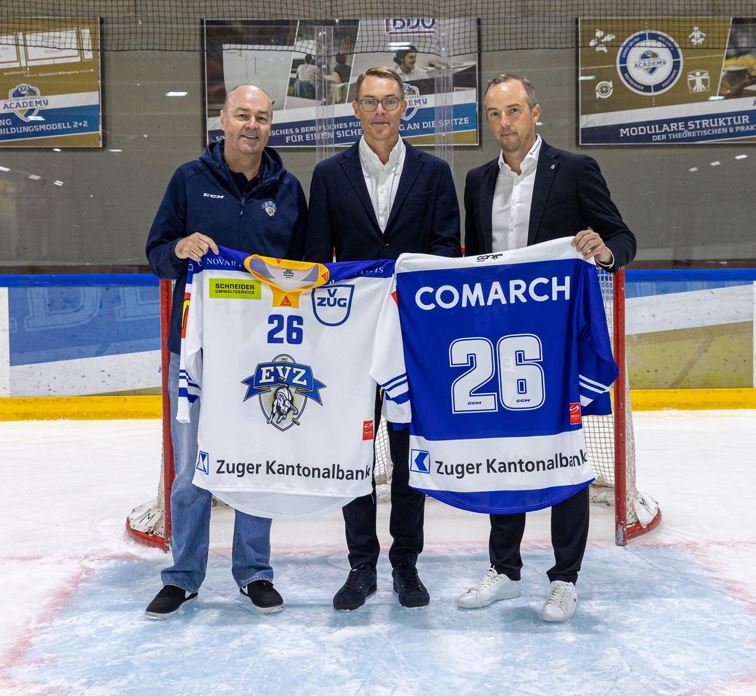 Bild: Andreas Tresch (Ressortleiter EVZ Nachwuchs), Michal Pruski (Vorstand / Head of DACH Comarch Swiss AG) und Patrick Lengwiler (CEO EVZ)
Mit Beginn der Saison im August 2022 fördert Comarch 300 junge Spieler in den Altersklassen U9, U11, U13, U15, U17A und U20A für mindestens drei Jahre. Mit diesen starken Nachwuchsmannschaften gilt der Eissportverein Zug als bedeutende Institution im nationalen Spitzen- und Breitensport. Man fördert gezielt junge Talente mit dem Ziel einer Profikarriere und bietet gleichzeitig einer Vielzahl an Jugendlichen im Bereich des Breitensports eine sinnvolle Freizeitbeschäftigung. Kinder aus finanziell benachteiligten Familien werden ebenfalls besonders unterstützt, um ihr Hobby Eishockey ausüben zu können.
Sportliches Engagement
Seit vielen Jahren unterstützt Comarch Sportvereine im In- und Ausland. Zuletzt wurde der IT-Konzern offizieller Sponsor des belgischen Vizemeisters Royale Union Saint-Gilloise. Dieser traditionsreiche Verein mit 125-jähriger Geschichte gewann bereits elfmal den belgischen Meistertitel. Zudem ist Comarch Besitzer von Polens ältestem Fussball- und Eishockeyklub KS Cracovia, dem mehrfachen polnischen Meister, Pokalsieger und aktuellen Gewinner des IIHF Continental Cup.
Über Comarch
In der Schweiz ist Comarch fest verwurzelt, z.B. durch Kundenbeziehungen und Partnerschaften mit regionalen Firmen als auch durch Förderung von Vereinen. Die Comarch Swiss AG hat ihren Hauptsitz in Arbon sowie einen weiteren Standort in Zug. Zudem verfügt das Schweizer Unternehmen auch über ein zukunftssicheres Fundament mit einem starken Konzern im Rücken: So ist Comarch eines der grössten IT-Unternehmen in Europa. Der IT-Spezialist führt Projekte für Kunden in den wichtigsten Wirtschaftssektoren durch, darunter Handel und Dienstleistungen, Industrie, IT-Infrastruktur, Telekommunikation, Gesundheitswesen, Finanzen, Banken und Versicherungen. Viele der selbst entwickelten Produkte und Dienstleistungen wie Comarch ERP, IOT, Loyalty Marketing, ICT oder EDI & Invoicing werden nicht nur in der Schweiz, sondern auch in mehr als 100 weiteren Ländern eingesetzt. Das Unternehmen beschäftigt derzeit rund 7.000 Experten in über 90 Niederlassungen in mehr als 30 Ländern. 
Mehr über das Software- und IT-Portfolio von Comarch erfahren Sie auf der Portfolio-Website

Kontakt:
Comarch Swiss AG, Grabenstrasse 2/4, 9320 Arbon 
Comarch Swiss AG, Rigistrasse 3, 6300 Zug
Tel.: 0041 71 447 90 30